Hiring a qualified and experienced Social Security attorney to assist in your claim for either Social Security Disability Insurance benefits or Supplemental Security Income is extremely important and increases the chances of success on your claim significantly. Here are a few vital questions to ask to ensure you receive the best possible representation for your claim.
Which Attorney Will Help with My Case?
When you first contact a Social Security attorney for assistance on your claim, it is important to ask which attorney will be helping you on your case and when you will first have an opportunity to meet that attorney. Many offices have resorted to randomly assigning cases to various representatives on their staff, and unfortunately, the claimants never have an opportunity to meet these representatives until the actual day of their hearing in front of an administrative law judge. This is unacceptable.
If a law office tells you that they do not know who will be assigned to your case, or that you cannot meet with your attorney until the day of the hearing, you need to look for a different attorney.  It is your right to know who will be representing you in this process and how much experience they have in representing Social Security claimants such as yourself.
When Will I Meet My Attorney?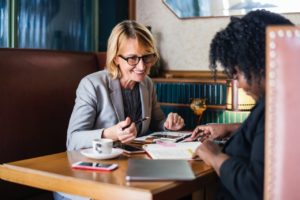 Every claimant for Social Security Disability Insurance or SSI should have multiple meetings with their representative prior to going into court with an administrative law judge. These meetings are necessary not only to develop a rapport between the representative and the client, but also to ensure that the record is fully developed by obtaining all medical information so that all of the relevant medical records can be secured prior to the hearing in the disability claim.
Additionally, multiple meetings assist with the attorney's understanding of the nature and severity of the impairments and how they affect and limit the client. It is simply impossible to have an understanding of the nature and severity of your client's impairments without meeting with the client in advance.
If a law office tells you that they don't know who your representative will be should you have to go to court with an administrative law judge, you should continue to call other attorneys until you can be sure of who is actually going to work on your case. You should not wait years to have your day in court only to find out that the attorney knows nothing about your case, or you, or your impairments.
There is simply no substitute for time spent meeting and discussing your case with your attorney.
What Levels of the Claims Process will My Attorney Assist With?
Additionally, when you first contact the attorney's office, you should ask what levels of the claims process they assist with. For example, some law offices will assist with the actual applications process, the request for reconsiderations, and/or the request for hearings, but they terminate the relationship if a case is lost at the ALJ hearing level.
Other offices represent clients for disability benefits at all steps of the appeals process through the US district court level. It is important to understand at what levels your attorney will assist you and what happens if you receive a denial at any level of the appeals process.  You need to know this information prior to entering into an attorney-client relationship and agreeing to pay that attorney for his or her help.
What Is My Attorney's Winning Percentage?
Claimants for Social Security Disability Insurance benefits and/or SSI often ask what an attorney's winning percentage is. This is somewhat difficult to quantify, given the fact that winning percentages vary depending on the stage of the appeals process and other factors over time.
For example, most attorneys are not successful in obtaining benefits at either the "request for reconsideration" stage or the "request for review" stage of the appeals process. Attorneys typically have better success at either the hearing stage, where a decision is rendered by an administrative law judge, or perhaps in the US district court, at one of the final stages of the appeals process. Again, this is a question that should be asked of your potential representative prior to hiring that attorney to represent you in your disability claim.
Also, a winning percentage varies depending on the facts of each case.  Winning percentages on clients who are younger will likely be much lower than with clients who are approaching retirement age.
Hiring an experienced Social Security attorney who will take the time to sit down and discuss your case with you on multiple occasions prior to actually going into court with you is critical to proper representation in these disability cases. It is up to you to ask the relevant questions and make the determination whether this is a representative you want to hire or not.